THE BUBBLE HAS BURST! STREETWEAR BROKERS ARE JUMPIN OUT THEIR WINDOWS...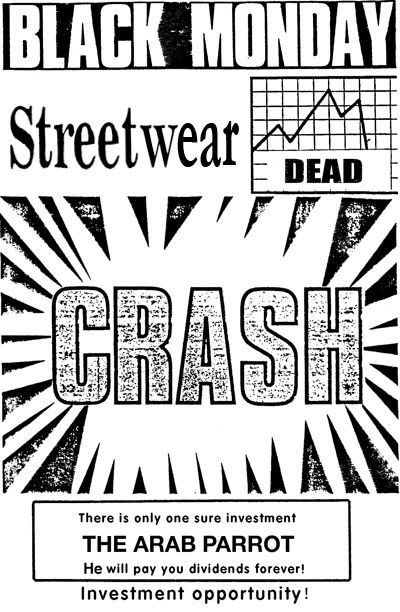 3 PROTO-TYPE ARAB PARROTEE'S LEFT IN MY CLOSET FROM THE 24 THAT WERE MADE A WHILE BACK. 17 WERE GIVEN OUT TO HOMIES, 1 WAS STOLEN, 1 WAS DESTROYED, I KEPT TWO...ONE FOR ME & ONE FOR THE PARROT. I'M SELLIN 1 OF THE LAST 3 UNDER THE COUNTER ON EBAY. THE WINNER CHOOSES THE SIZE (M,L,XL). THE LINK BELOW WILL TAKE YOU TO THE AUCTION...
24 PARROT GOLDEN TICKET!!!!!!!!!!!
DON'T BUY JUNK! THINK LONG TERM! BUY! BUY! BUY!
ALSO ARAB PARROT KABOB HOUSE COMING SOON!